Chief Strategy Officer in the AFC Mohammad Aqra: Lebanese Designers Excel with their Creativity in the Arab Region
Rita Khoueiry
21-July-2022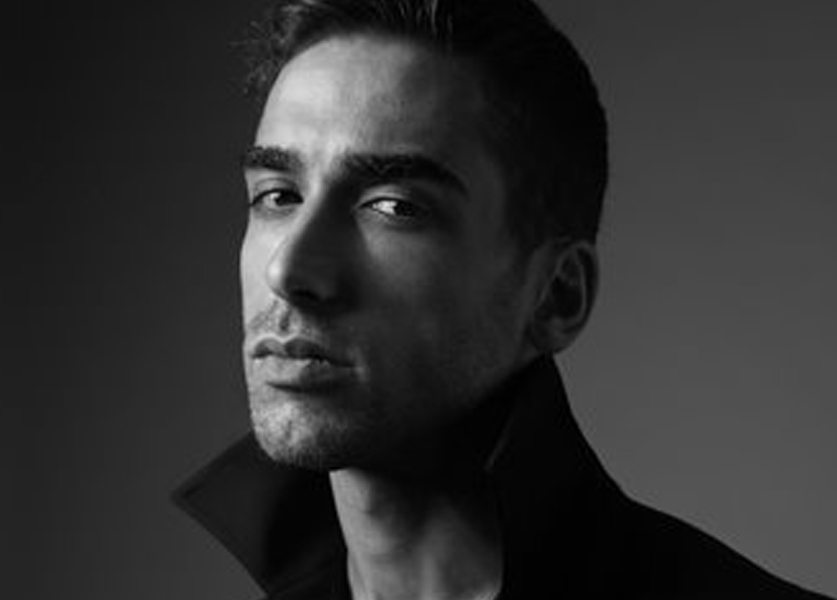 Photo : Lara Zankoul
Becoming one of the youngest to occupy the Chief Strategy Officer in the Arab Fashion Council, Jordanian-American entrepreneur Mohammad Aqra aims to support the Council's mission in fostering the growth of regional designers. With a purpose of supporting inclusivity and providing designers, especially Lebanese, global opportunities to shine on an international level, Mohammad Aqra builds an overall strategy with international and regional partners that reflects the main mission. Considering Lebanese designers a source of creativity for the whole Arab world, he invites them to be mentors for their peers and to keep going.
As a Jordanian-American entrepreneur, what motivated you to enter the world of fashion?
"When I was young, in my teenage years specifically, I was overweight I could never wear what all the cool kids were wearing especially my older siblings would shop from the best brands at the time. My mom would shop for me from the "big and tall section" especially from JC Penny because it was very difficult for her to find my size. The clothes were tight at times and not by choice.
When I turned 17 I told myself enough was enough, I started on my "get fit" journey and once the weight was off, I felt like a new person, new wardrobe, I started getting noticed and it kind of got me interested in myself and taking care of me. Shopping the most "it" brands I also went into modelling and from there I fell in love. It was not butterflies and rainbows for me, while getting modelling gigs my parents were so supremely against it. So, I started working with casting directors and models scouts to fill a gap that I had before by giving people of diversity a chance that I once wanted for me, to support inclusivity from the early times.
Being of Jordanian roots, born and raised in the US always got me interested and determined to build something in the region which we have in the US but not in our region. I was impressed by what the Arab Fashion Council had started to build and there were so many synergies with what I envision and what the Council is building. I got invited by the Arab Fashion Council board for a short trip consulting project and then I was requested to join the board full time. I really felt home away from home, and the workspace with people who are now my colleagues and friends that are like-minded got me rooted in Dubai.
In 2018 I joined the Arab Fashion Council as Head of Strategic Partnerships, where I demonstrated excellent skills to be appointed the Chief Strategy Officer in 2019 at 25, making me one of the youngest to occupy such an important role for an international authority. My role at the Arab Fashion Council includes drawing with the board the short-term and long-term strategies to meet the execution of the Council's mission. My department also supports fostering the growth of the regional designers by setting up international collaborations with global companies such as Microsoft and Mattel."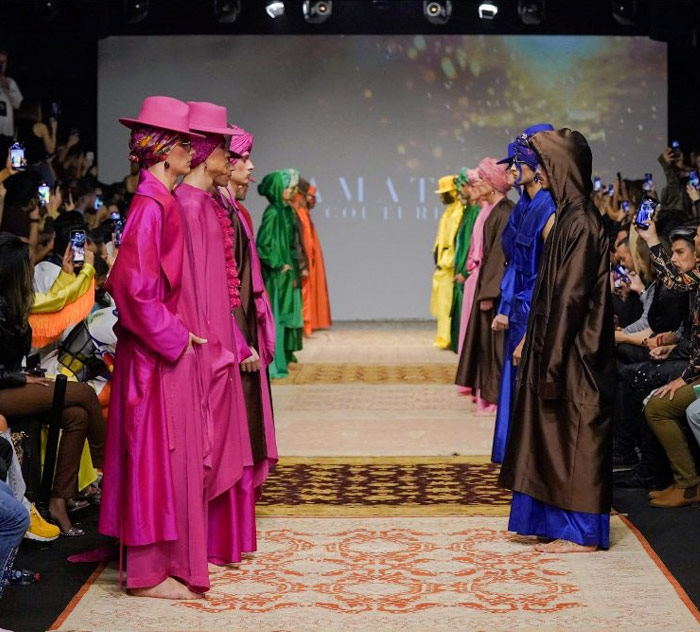 Photo: Finale from Amato, Arab Fashion Week Men's, Spring Summer 2023
What is the Arab Fashion Council's mission, and how do you develop strategies in order to meet this mission?
The Arab Fashion Council supports the regional industry by nurturing its creative resources through the entire fashion industry's value chain. Many see the Council's main activity to be coordinating the Arab Fashion Week, but it is way beyond that, the Council tackles every single aspect in the chain from resourcing fabric, strategizing factories business model, production, export to marketing. The Fashion Week comes as a celebration of the region's compilation which enables the fashion designers to showcase their creativity to a global audience of buyers, press and UHNWI which is at the same time a prestigious platform dubbed as one of the big five fashion weeks.
In order to meet the Council's mission, I oversee the strategy of the council, building the road map between initiatives, making sure I build the right story that does not coincide with everything else that we are doing. A big part of my role is building the strategy with international and regional partners to be structured in a way that would support the Council's mission in fostering the growth of the designers. This involves brand to brand collaboration and linking together the stakeholders of the fashion industry.
As one of the youngest to occupy the Chief Strategy Officer in the AFC, what are the challenges you face?
Assigning to me the role of Chief Strategy Officer at an age of 25 is a big responsibility on me. Surely there were and will always be some challenges along the way, but I just consider them as checkpoints that I have to pass through. COVID 19 was the biggest challenge, although it was for everyone. However, working for a nonprofit, that had employees to take care of, a set vision to achieve and platforms to keep running is a bit tough. I think that building risk management plans and routes that was not anticipated was the biggest challenge, mentally! However, we did it and I could not be prouder.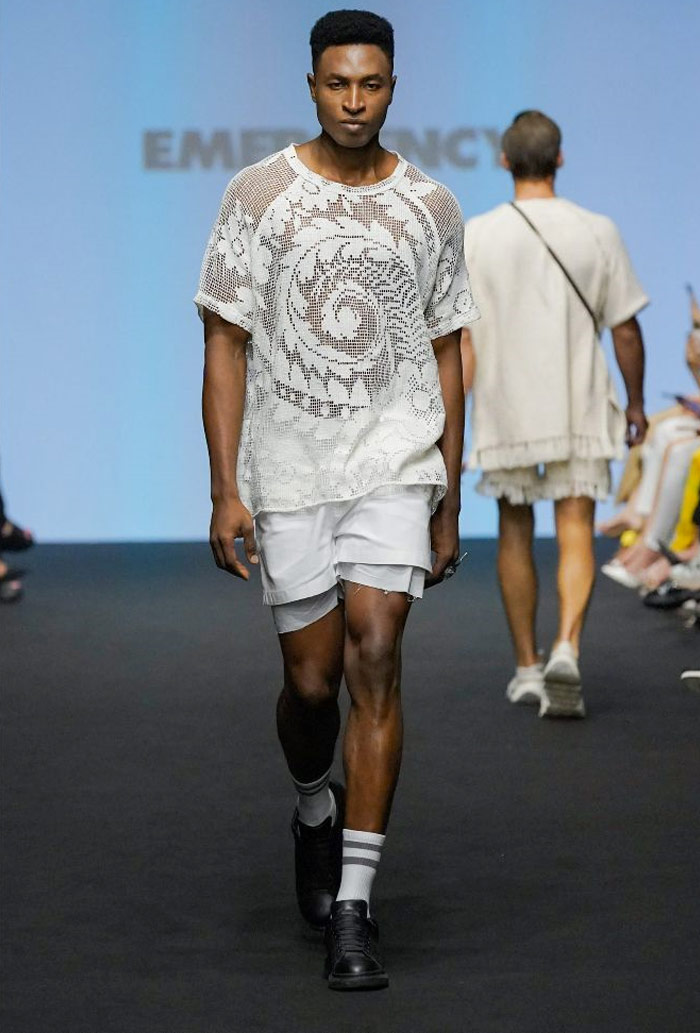 Photo: Emergency Room, Arab Fashion Week Men's, Spring Summer 2023, Dubai Design District (d3)
Concerning the Arab fashion world, where do you position Lebanon?
Lebanon is considered as a creative country in the Arab region. Lebanese designers and creatives have always been a source of creativity for the whole Arab world.
Despite everything happening in our country, do you still consider Lebanon as an important source of creativity?
Sure! And this is why we continuously support Lebanese designers by giving them global opportunities to shine on an international level. Global collaborations highlighting Arab Fashion Council's commitment to championing sustainability, creativity, innovation and fashion tech are what I really enjoy doing. Lately, the Arab Fashion week Men's SS23 witnessed 2 collaborations between Lebanese designers and Global brands: The 1st one was between the Swiss label Ferronato, the first luxury accessories range with full data privacy protection, and the Lebanese menswear brand Maison du Mec; and the 2nd one was between the logistics company Aramex and the Lebanese designer EMERGENCY ROOM, who are leaders in the realm of upcycling and second-hand sourced fashions.
What makes you believe that Lebanese designers are distinguished?
The quality of work and designs they're offering. As proof, a good number of Lebanese fashion designers have penetrated international markets and dressed up celebrities.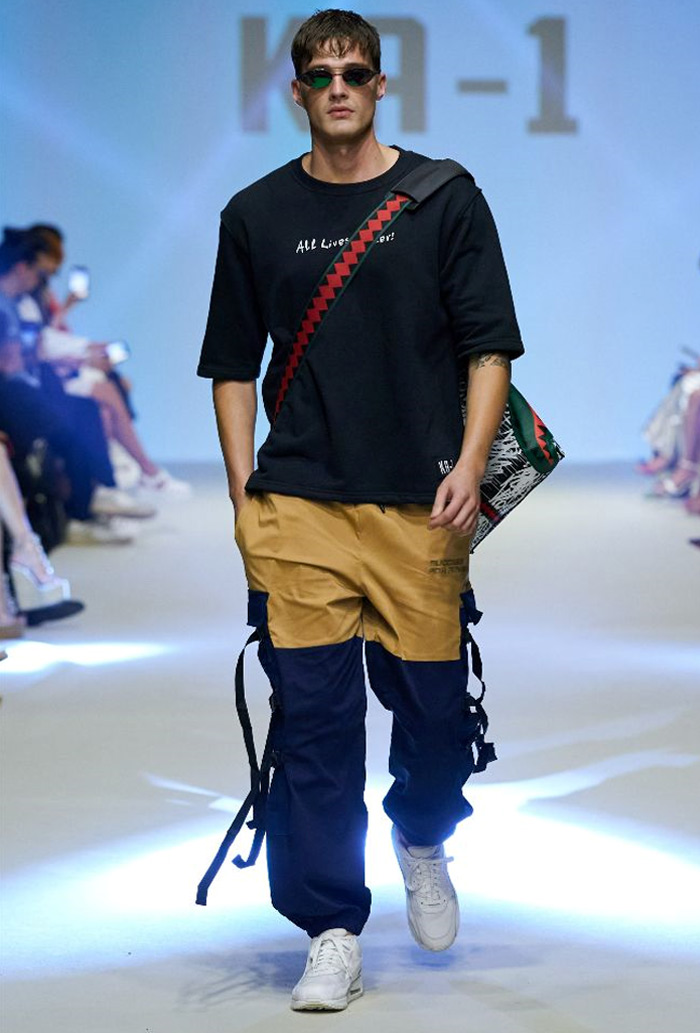 Photo: KA-1, Arab Fashion Week Men's, SS23
In order to support Arab designers and boost their work, what future projects will you rely on?
We want to attract qualified Arab and foreigners' designers to showcase in the AFW by giving them the right media exposure and help them innovate and commercialize their creativity with fashion Businesses via partnerships and collaborations with Big Brands/Names. We also work on putting them in contact with regional and international buyers.
Since Lebanese designers are supposed to be supportive to their Arab peers, what's the best advice you can give them?
Lebanese designers are known for their creativity and this was the main reason for them to be on the calendar of international Fashion Weeks. With that in mind, I advise them to keep going despite all the challenges Lebanon is facing amid this long-lasting crisis. I encourage them to lead with creativity, be mentors for their Arab peers, and on top of all that, always stay humble