Is Kate Middleton's Pink Blouse A Message To Meghan Markle?
Augustin Bougro – Madame Figaro
10-March-2021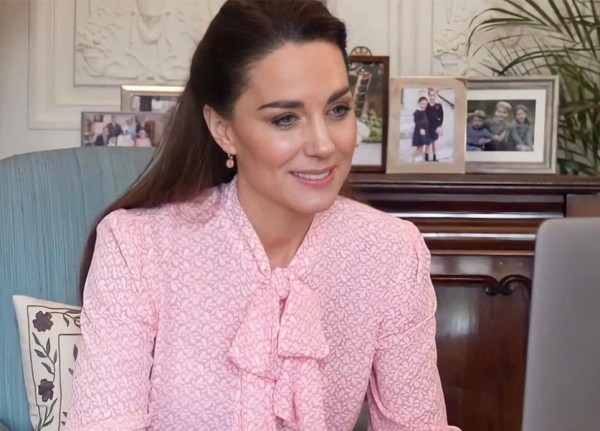 In a public appearance to celebrate International women's day on March 8, the Duchess of Cambridge appeared in a pastel pink blouse with a pussy-bow. The color alone says a lot, especially after Meghan Markle's shocking interview with Oprah Winfrey. So, is that blouse a response to Meghan?
Every public appearance of Kate Middleton is an inspiration for tabloids around the world. And, on March 8, the Duchess of Cambridge, once again, made everyone talk about her. This time, it's her pussy-bow blouse worn during an online conversation with the youngest woman to have crossed the Atlantic, Jasmine Harrison. Prince William's wife opted for a preppy staple, the day right after the famous interview of Meghan Markle with American host Oprah Winfrey.
In the video, Kate Middleton appears radiant in the Dora pastel pink blouse by British label Boden. The 100% viscose model is already out of stock on the label's e-shop. Not so surprising, given phenomenal fashion influence Kate Middleton has.
Is it a coincidence that Prince William's wife has opted for a British brand, when we know that Meghan Markle has for a while favored American labels such as Carolina Herrera and Oscar de la Renta? No reference to Meghan Markle was made in this video call, but some are already saying her outfit has a specific meaning. Faced with Meghan Markle in an £3,300 Armani black dress, Kate Middleton opted for a £80 pink blouse tucked into jeans, looking effortlessly chic. Pink is a color traditionally associated with softness, femininity, even sincerity. Is it the duchess' response to the actress?